Dual enrollment for high-school students
Dual enrollment is an extra educational option for particularly gifted high-school students ready to throw themselves into more challenging work. We can offer it on the basis of Article 19(3) of the Lower Saxony Higher Education Act (Niedersächsisches Hochschulgesetz), which makes provision for this kind of support for the highly talented.
Participating high-school students attend regular university classes, such as lectures, seminars, and tutorials, and can take the corresponding exams while still at high school.
Dual-enrollment students enroll (matriculate) at the university just like normal students but do not pay the semester fees (made up of various charges, levies, and subscriptions). They remain high-school students, and their first priority must still be to finish high school. That diploma comes first! That is why students can only sign up for dual enrollment with the consent of their high schools. The students should be able to keep up the standard of their work in spite of the additional workload.
Credit points gathered during dual enrollment can count towards a later regular degree program, if the classes taken are sufficiently relevant to that program. This can reduce the amount of time you need to spend as a regular (fee-paying) student.
Who can participate?
Students of German Gymnasium schools and equivalent institutions of secondary education who
are very keen on one of the subjects offered at TU Clausthal
want to take on the challenge of combining high school and university
have been achieving excellent grades at school
There are no restrictions in relation either to age or to what stage of their schooling students need to have reached.
Advantages of dual enrollment
Dual enrollment opens up a number of very tangible possibilities and opportunities:
to study at a higher level – a chance to look beyond the horizons of high school and really stretch yourself
to know what you are studying and why – clarity about your own objectives and abilities
to try out university life
to reduce the time it takes to complete your regular degree program later – credits carried over from classes taken under dual enrollment
to smooth your later transition from high school to university
Dual enrollment is made possible by:
the Society of Friends of TU Clausthal
the foundation Stiftung Niedersachsenmetall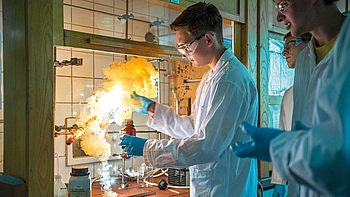 More information and application forms are available here:
Dual enrollment regulations
Whom to contact
If you have any questions or need someone to help arrange contacts between students and teachers, our Advisory Service is at your disposal:
Frau Dipl.-Ing. Katrin Balthaus
Phone: +49 5323 72-3671
E-Mail: studienberatungtu-clausthalde