Our vision
Our vision for research and teaching at Clausthal University of Technology
We formulated the following vision in a participatory process involving all the university's stakeholder groups:
We are building our future on the foundations of our history.
Clausthal University of Technology has close ties with the town of Clausthal-Zellerfeld and the Harz region, and it is steeped in their history of mining and related industries. We are cultivating that ongoing tradition in conjunction with an openness to new ideas and people who come to us from across Germany and around the world. Integral to team spirit and solidarity is a responsible approach to diversity – and it is this which defines the Clausthal spirit. We work in partnership to meet the challenges of a sustainable industrial society.

We take our responsibility to society seriously.
Good science is our mission. We attach great importance to exchange and dialogue with the political sphere, the private sector and society at large. We are a very international university with a presence in the global scientific community, which simultaneously plays an active role in the development of our region.

We stand for unity and freedom of research and teaching.
We set high standards for the quality of research and teaching, which can only flourish in unity and freedom. We use our freedom responsibly. Outstanding achievements in research and teaching are very highly prized and actively fostered at our university.

We promote the development of skills and personalities.
We are a starting point and a destination for students and researchers from all over the world. We make room for and integrate the diversity of our members to ensure cosmopolitanism, creativity and non-discrimination. In that environment, we facilitate a holistic academic education that not only trains students in scholarly skills but also fosters their personal growth and development as they build their individual careers and lives. Our alumni stand out for their expertise and personality, and we like to keep in touch with them at many different levels.

We study and teach in forward-looking degree programs of assured quality.
To ensure quality and continuously develop our degree programs, we deploy university teaching methodologies, quality-control measures and evaluation mechanisms. This gives us ever more insights into pedagogy and learning that we then feed into the way we mold the teaching and studying processes.

We remain committed to our research profile.
We concentrate our resources and the subject matter of our research on our established focuses and are constantly developing our profile in the fields of energy, materials and information technology. Outstanding academic achievements enjoy the same high degree of recognition at our university whether they are in basic or fundamental research. We are working on an interdisciplinary basis to develop systematic approaches to the technological challenges of a sustainable industrial society. We use national and international dialogue and publication to test the relevance of our research, which gives us excellent visibility in the scientific community.

We make the connection between theoretical foundations and practice.
Our strength lies in the practical applicability of our research and the implementation of our findings. Designed with an eye for practical use, our fundamental research provides the academic foundations needed for new knowledge to pass into the private sector and wider society. We establish long-term networks and cooperative arrangements built on mutual trust with partners in academia, industry and society at large. We are committed to upholding a high degree of transparency and neutrality.

We research, study and teach with mutual respect and great dedication.
We conduct our research, study and teaching transparently and openly, with mutual appreciation for the knowledge and experience of all involved. We collaborate across the boundaries between disciplines and hierarchical divisions. We see the diversity and the diminutive size of our university as a definite plus.
We, the university management, work with the self-government bodies of the university to create the conditions required for good research and good teaching. We are developing Clausthal University of Technology's credentials as an attractive employer, and we support our academic and non-academic staff at all stages of their careers.
We, the researchers, are driven by our curiosity, and we strive to add to the store of scientific knowledge. We also spark enthusiastic interest in our disciplines and collectively grow in the course of the research process. We are committed to good scientific practice and make use of opportunities to continue developing our skills.
We, the teachers, inspire enthusiasm for our subjects. We make use of opportunities to continue developing our skills and networks. We are aware of the heterogeneity of the student body. Our focus is on the students, and we assist them responsibly in their development.
We, the students, work actively, responsibly and willingly in pursuit of our chosen degrees, and we make use of the wide range of classes offered. We take responsibility for developing our skills and personalities. We use our influence, and our actions contribute to campus life.
We, the support staff, help the students and teachers in organizing study, teaching and life, providing assistance and advice. Through our research-oriented service and our support for the research process, we play an active part in the success of good research.

We are one university – one community.
All of us together are Clausthal University of Technology.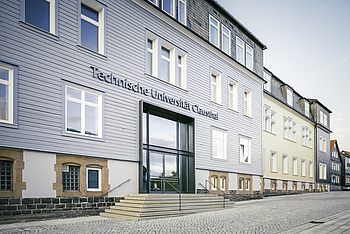 Image