Digital Technologies
Digital Technologies is a cooperative study program of Clausthal University of Technology and Ostfalia University of Applied Sciences. In this program, both universities convey knowledge in topics of tomorrow. To do so, they merge their regional rootedness, their close connection of sciences, engineering and economics with their large network and their good contacts to companies and external institutions.
In the Bachelor program students develop competencies for successful digitalization - in industry, research and administration, where computer science is often closely linked to the field of application. Computer science courses form the foundation of this program. Already in the second semester, you choose your individual field of application. The knowledge of both areas is connected in digitalization projects. Each semester, you will work on practice-related questions and assignments.
Upon successful completion of the Bachelor program DIGITAL TECHNOLOGIES, you will receive a certificate of both universities which boosts your career opportunities and lays the basis for the consecutive Master program DIGITAL TECHNOLOGIES.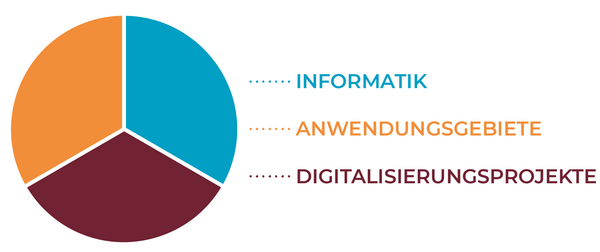 With a successful bachelor's degree in DIGITAL TECHNOLOGIES, they receive a joint degree from both universities, which increases their career opportunities and also creates the prerequisites for the consecutive master's degree in DIGITAL TECHNOLOGIES.
Job profile and labour market
After the bachelor's degree, the path to an advanced master's programme with a subsequent doctorate is open to you.
Extensive contacts with partner companies of the universities within the digitisation projects offer the best conditions for a career entry in the free economy.
Depending on the field of study, you can develop next-generation recycling robots, invent even smarter control applications for buildings or production processes, or design and develop apps for future mobility services. No matter what you choose, you will always be at the forefront at the interface between computer science and the application field.
COMPUTER SCIENCE
No other discipline develops as fast as computer science, no other discipline yields as many innovations relevant to our daily life. Computer scientists are allrounders who shape the future.
Topics of Computer Science
Programming techniques using Python and JAVA
Internet of Things (IoT), Cyber-Physical Systems (CPS)
Model-based systems engineering
Data bases and Security and Privacy
Robotic and machine learning
Mathematical fundamentals of computer science
FIELDS OF APPLICATION
Choose the field of application you are most interested in and thus place your study scope. By this, you already gain valuable insights and experiences in various modern business areas of economy and industry. These are the best prerequisites for an outstanding start into your working life!
You can choose from the following fields of application:
The field AUTONOMOUS SYSTEMS teaches you the fundamentals and specialist knowledge of robotics. Here, you learn about the connection of prognosis and behavior of autonomous systems.
CIRCULAR ECONOMY AND ENVIRONMENTAL TECHNOLOGY deals with questions of extraction and processing of raw materials, technical environmental protection and sustainability and environmental systems and their simulation.
In DIGITAL TRANSFORMATION new business models, sustainable innovations and improved business processes and services are developed by using data and new digitalization technologies.
ENERGY deals with the fundamentals of electrical engineering and thermodynamics as well as the main aspects of technical building equipment like air-conditioning and ventilation.
INDUSTRY 4.0 deals with digital production, including multi-faceted aspects from measuring technology to automation technology and computerized and additive production processes.
MOBILITY covers the fundamentals of traffic and logistics as well as traffic control and management, and automated transport systems.
DIGITALIZATION PROJECTS
One of the key features of the program DIGITAL TECHNOLOGIES are the interdisciplinary digitalization projects. In these projects, Bachelor and Master students from different semesters develop prototypes for different assignments or problems for topics from the fields of application and computer science disciplines. Here, solutions are always approached by implementing digitalization technologies. In digitalization projects, students connect their fundamental knowledge of computer science with interesting questions and relevant problems of the fields of application.
In addition to theoretical fundamentals, the interdisciplinary digitalization projects also impart practical competencies:
Project management and creative techniques
Practice-related hard- and software projects
Soft Skills (Communication, Conflict Management and Team Skills)
Ostfalia Student Advisory Service Phone: +49 (0) 5331 939 15200 E-mail: zsbostfaliade
Student Advisory Service of the Clausthal University of Technology Phone: +49 (0) 5323 72 3671 E-mail: studienberatungtu-clausthalde